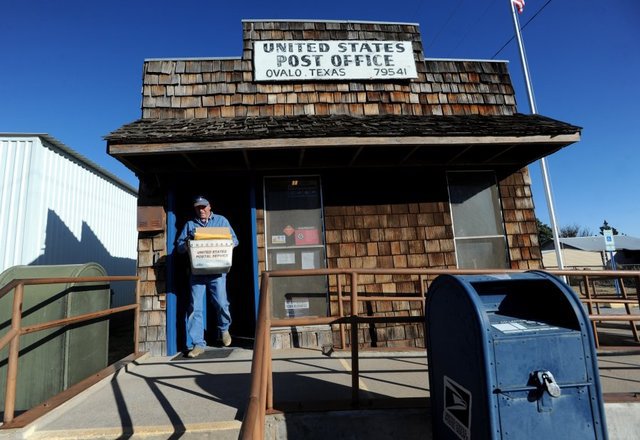 View All Ovalo Listings
Amenities:

Education

Country Living

Spirit

Starry Skies
Your Ovalo, TX Real Estate Guide
---
2000 Est. Pop.: 225.
Location: 23 miles south of Abilene at U.S. Highway 83 and FM 614.
History: In May 2008 Ovalo residents and exes celebrated the town's centennial, dating to when the Abilene and Southern Railway Company came through. Before the town formed, the area was a popular early stop for buffalo hunters and trail drivers going through Buffalo Gap.
The town's name is the Spanish word for oval, a nod to the oval-shaped valley where the settlement sprung up.
In 1910, a year after trains started rolling through, Ovalo had 46 business and two churches. The population peaked at about 600 in 1940 and began to fall after World War II. The town's school merged with several others in 1947-48 to form the South Taylor School, which eventually led to Jim Ned Consolidated Independent School District.
Sources: The Handbook of Texas Online and www.reporternews.com.
School Information: The Jim Ned Consolidated Independent School District consists of two elementary schools – one in Lawn and one in Buffalo Gap – and a middle school and high school in Tuscola, where the administration also is based. 2007-08 enrollment: 1,046. Mascot: Indian.
Jim Ned CISD is the result of 31 small schools throughout the area coming together throughout the 1900s. Lawn joined the consolidation in 1957.
Jim Ned Buffalo Gap Elementary
665 Vine St.
P.O. Box 608
Buffalo Gap 79508-0608
325-572-3533
Jim Ned Lawn Elementary
525 4th St.
P.O. Box 118
Lawn 79530-0118
325-583-2256
Jim Ned Middle School
830 Garza Ave.
P.O. Box 9
Tuscola 79562
325-554-7870
Jim Ned High School
830 Garza Ave.
P.O. Box 9
Tuscola 79562
325-554-7755
Web site: www.jimned.esc14.net